This story begins and ends with deeply felt loss. But what about the in between? Yes, that's what really matters.
In the summer of 1996, I had two dear cats, Lenny and Elvis. They were buddies. Bookends. They completed each other and filled my life with fun and my home with love. By the end of the summer, Lenny succumbed to respiratory illness. Up until that time, I had no idea that our pets grieve and sometimes very deeply. Such was the case with Elvis.
I watched him mope around the apartment for 4 months, his countenance growing sadder and sadder as he looked for – but could not find – his best friend. Elvis had a heart condition and, to my eyes, he seemed on the verge of giving up. Obviously, he needed a companion.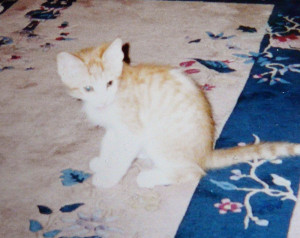 Coincidentally my neighbor told me she had two 6-week old kittens and that I could have one of them.  As I watched the ginger boy with white paws tumble around with his calico sister, I decided on the fuzzy pink-bellied boy. He was small enough to carry upstairs in the palms of my hands. He had no name but he definitely brought new life to my dear Elvis.
What to name him? What to name him? I tried out three or four names over a 2-week period but they were all non-starters. He didn't respond to any of them and none seemed to fit. It was nearing Christmas when it hit me: this kitten was a gift and his name should reflect that in some way. I hit on the Russian variant of the name Nicholas (as in St. Nick) and Nikita was his name-o!
Elvis quickly took Nik under his wing, teaching the boy about the best places to perch, how to get to and from the bathroom sink where I kept a trickle of water running, and who was really the boss of the house. Sadly, Nik's time with Elvis was cut short. Within 3 months, pneumonia took my beloved Elvis. All of a sudden, I had a feisty and playful kitten in need of an older hand to teach him the ropes. Fate once again intervened.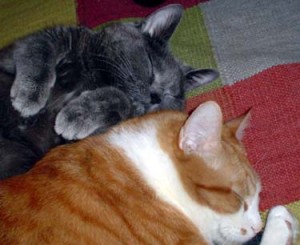 A couple I knew had taken in a well-fed but frightened green-eyed beauty. They searched around the neighborhood for her owners. In the meantime, the girl was so afraid of their small dog that she took up residence in the hall closet. Clearly she needed a home. I said I would take her, thinking she would provide the nurturing Nikita needed. Yeah. Not so much.
It took Sylvia six days to come out of the bathroom. Once she did, she decided that I was okay but that kitten? That kitten was a pest and would only be tolerated in small doses. Nik, on the other hand, was completely devoted to her. Whenever Sylvia wrapped her sturdy paw around his neck, Nik never complained. He groomed her and kept her warm. Whenever I saw a new scratch on his little pink nose, I knew at once it was Sylvia's doing. Nik remained glued to her for the rest of her life.
Sorry. I skipped ahead 10 years or so.
Sylvia was pretty bossy but that didn't stop Nik from coming into his own clever self. He would jump and climb everywhere. So much so that I called him my little monkey. He loved to have his tummy rubbed and would flop down on his back as soon as I said, "Who's got the belly?" He was so observant that he learned how to open drawers and doors by pulling the handles, where most cats will swat at the door or reach underneath. Nik would stand up on his hind legs and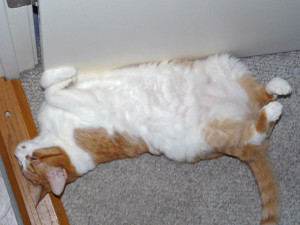 flip the lever handles on my bedroom door. It became impossible to shut the cat out at night. I actually had to resort to putting baby locks on cabinets and drawers – that is unless I wanted some curious creature to find his way under the sink or inside the bathroom vanity. Once, he even trapped Sylvia in the hall closet.
I was out of town and my Mom came over to watch the cats. For the life of her, she could not find Sylvia. Eventually she heard this gruff little sound coming from the closet. Apparently, Nik stood up and pushed the door closed on the poor girl.
His other proclivity? Plastic bags. Oh, my pica baby LOVED his plastic bags. He would sniff them out even when they were all the way at the bottom of another bag, climb inside and drag out his prey. He was right by my side anytime I cleaned the litter box, so much so that I called him my little helper. He'd bite and hold one side of the bag open while I cleaned the tray.
He had his favorite toys. He overcame his fear of strangers. The one thing Nik lacked was a buddy. A real buddy. By the time Sylvia left us, Nik was already 10 years old but still very kittenish, with his soft, fluffy furs and innocent face. Rocky was just what the doctor ordered.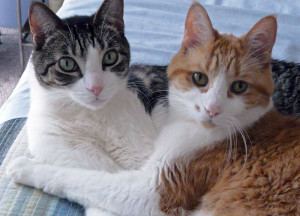 Rocky was only 4 years old so the zoomies and rough and tumble were the order of the day. It did my heart so good to see these two boys become bookends as well – each occupying the opposite end of the sofa; laying back to back like yin and yang; playing straw hockey until the darn thing was lost in the land underneath the buffet.
This went on for 4 or 5 years before Nik began to show signs of becoming a senior citizen. No more jumping, not much rough and tumble, no more straw hockey. Even though he began a physical and cognitive decline, there were bright spots that showed me my forever kitten was still in there. He might not be able to jump or climb or even sit comfortably but that's what the kitty stairs were for. He might have gone deaf but I still sang his favorite songs right into his ear so he could feel my rhythmic breath. And he still had his favorite toy: the bird on a wire! Even though Nik had lost 6 pounds from his adult high of 14.5, he still carried that thing wherever he went, crowing proudly all the way. My friend JZ called him The Mighty Hunter. I would say, "bring me the toy!" and he'd drop it at my feet.
When the arthritis in his back end got so bad, he couldn't stand to have his tail end touched. I scratched it a bit, sang the "Scratchy Butt Kitty" song and watched as he raised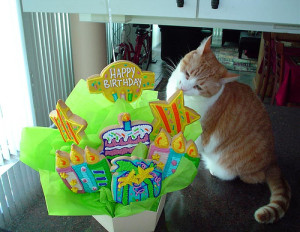 his tail – just the tiniest bit in that happy cat pose. I was forever coming up with silly things like that. Nightime was the same ritual. I would say, "Time for bed" and he would trot along, jump up on his side of the bed and wait for me to turn out the light and climb in. He'd sit on my chest and, as I scratched his chin and petted him, I'd sing "Fuzzy Wuzzy Was A Bear" and "C is for Cookie" until he laid down against my left side, his tail curling onto my shoulder and his head laying on my hand. I loved that little guy like nobody's business. Sometimes so much that the thought of losing him made my heart ache.
I hate that our companions lives are on fast-forward but I suppose that's part of the deal. One takes the bitter portion with the greater portion of comfort and delight they bring. I don't define Nik's last period of life as a list of maladies. I rather think I did everything I could to make him happy and comfortable; that I loved and respected him enough to let him go. There were tears. There still are. I'm hit by a wave of choking sadness then something will make me smile. Something will bring to mind the day he decided my birthday cookie bouquet had to be taste-tested first. That my shoes were the perfect recepticles for his fluff ball toys. That there was no way to defeat a kitty determined to shred the paper towel or the toilet paper.
He's gone ahead, meeting up with his teacher, Elvis, his bossy girl, Sylvia, and his wife, Bianca. Nik may have originally come home as a kitten for my cat but he quickly became so much more. Nik became my buddy.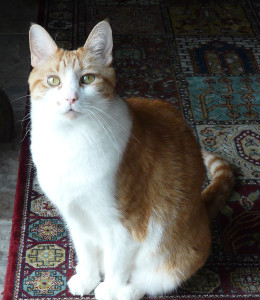 Nikita Boykin
29 October 1996 — 26 December 2015
Life is a book that we study
Some of its leaves bring a sigh
There it was written by a buddy
That we must part, you and I
~~~
My buddy, my buddy
Nobody quite so true
My buddy, my buddy
Your buddy misses you
– Lyrics by Gus Kahn, 1922